PLANT SERVICES
Our Plant Services offer construction management, supervision, and the dedicated workforce to get your projects done right and on-time.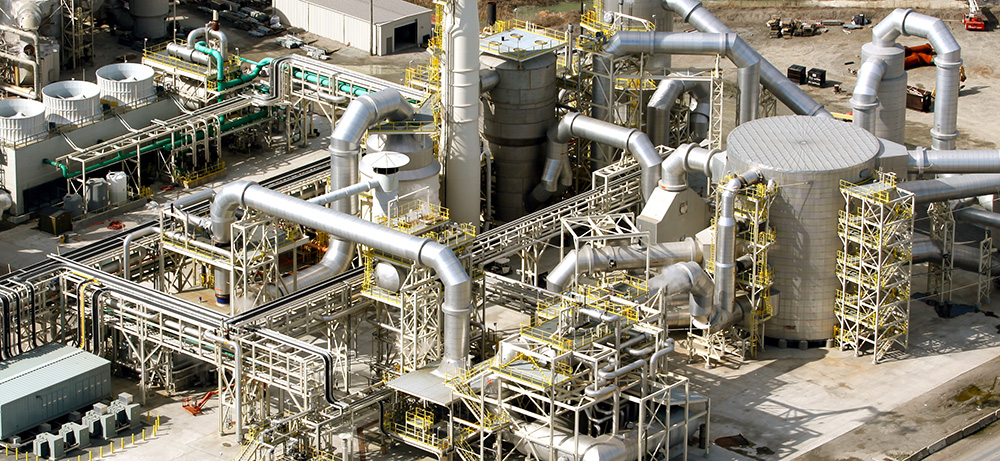 Roberts' core business is to provide construction solutions, resources, and support for facility owners and managers. We especially focus on capital projects, turnarounds, outages, renovations, and execution of repairs. Relationships are at the heart of our business. Rather than focus on a single project or process, we strive for long-term relationships with our customers—relationships built around dependability, responsiveness, results, and most importantly, trust. Unlike the typical construction contract method, Roberts can act as an extension of your facilities construction and support team. We can provide construction management, organize, and execute contract scope, and even manage multiple projects at one time. This means less overhead and less headache for you and your team. We take pride in responding creatively to construction and expansion challenges while still maintaining a results-oriented approach. Our teams are composed of seasoned professionals, whose experience and knowledge add value to projects of all sizes, complexity, and duration. We have experienced staff and craftsmen teams throughout the Southeast that have helped many of our clients complete their projects safely, on time, and within established budgets.
Our plant services have provided continuous on-site support to many industries for more than 45 years. We offer a full range of knowledge and skills necessary to keep your plant producing, including 24-hour emergency service personnel for turnaround and maintenance projects. Roberts has well trained civil, structural, erection, precision alignment, mechanical, piping, electrical, and instrumentation skilled craft personnel to completely support or supplement your needs during high load periods. Our staff can turn-key install or repair complex systems or perform single task requests such as retube your heat exchangers, evaporators, and boilers on-site. 
Specifically, we can provide the following services for your company:
Plant maintenance and repair services
Routine plant maintenance & preventive maintenance
New construction projects

Process and utility piping systems installations, integration, modifications, repairs, or

alterations

Total plant electrical power distribution installations, integration, modifications, and repairs
ASME code compliance equipment repairs or alterations
Plant capital project additions, modifications and retrofits

Civil, equipment or building concrete foundations and slabs, concrete restoration, steel

restoration

Boiler repairs, tube replacement and boiler installation

Heavy industrial equipment rigging and setting of new or replacement equipment and

precision alignment

Structural steel fabrication & erection such as catwalks, ladder/cages, vessel/silo supports,

conveyors, pipe supports and pipe bridges

ASME certified welders under ASME Section IX or D1.1
Heat exchanger or condenser tube replacement or repairs
Certifications
We have been granted Certificates of Authorization to provide fabricated products in compliance with the American Society of Mechanical Engineers (ASME) Section I & VIII, Division I requirements.
These include:
Compliance stamps "U" (Unfired Pressure Vessels) "S" (Boiler Manufacture Section I)

The National Board of Boiler and Pressure Vessel Inspectors "R" (Boiler & Vessel Repair &

Alteration)

Shell and tube heat exchangers are fabricated in compliance with:

Tubular Exchanger Manufacturers Association (TEMA)
Unfired Heat Exchanger (UHX) B, C, and R

AWS D1.1.
B31.1 and B31.3 Code
American Petroleum Institute (API) – 650, 620 and 653
Quality Assurance and Control:
Roberts strictly adheres to a number of Quality Assurance and Quality Control Programs. As part of this process, we undergo yearly audits through our Authorized Inspection Agents and full audits every three years by the ASME and the National Board. Through the audit process and our ongoing internal efforts, we keep our quality program up to date with the latest amendments and revisions to the ASME code.
Our written Quality Control/Quality Assurance program is committed to zero defects both technically
and aesthetically. All vessels are built to the same standards, whether code stamped or not. In
addition to in-house radiography capabilities, we are equipped to perform various types of leak tests, 
(including Helium Leak Testing), proof tests, and ultrasonic thickness and material verification tests. We will develop a Project Specific QA/QC Program tailored for our clients' unique needs.
Positive Material Identification:
Was the correct material used in your equipment?
Was the correct filler metal used to weld your equipment?
What type of material do you have in that pile of steel on your site?\
Shop Testing
Roberts has in-house nondestructive testing (NDT) capabilities.
Certified Welding Inspectors (CWI's)
Full-time Vessel Professional Engineer (PE)
Visual Testing (VT)
Penetrant Testing (PT)
Magnetic Particle Testing (MT)
Ultrasonic Testing (UT)
Radiographic Testing (RT)
Positive Material Identification (PMI)
Helium Leak Testing