FABRICATION / FIELD ERECTION
Roberts "Total Project Solutions" fabrication / field erection capability allows you to write one purchase order for fabrication and installation of vessels (including ASME Pressure Vessels), tanks, columns, towers, heat exchangers that are too large to ship fully assembled. Roberts can shop fabricate components, field assemble the components on your plant-site, and make tie-ins.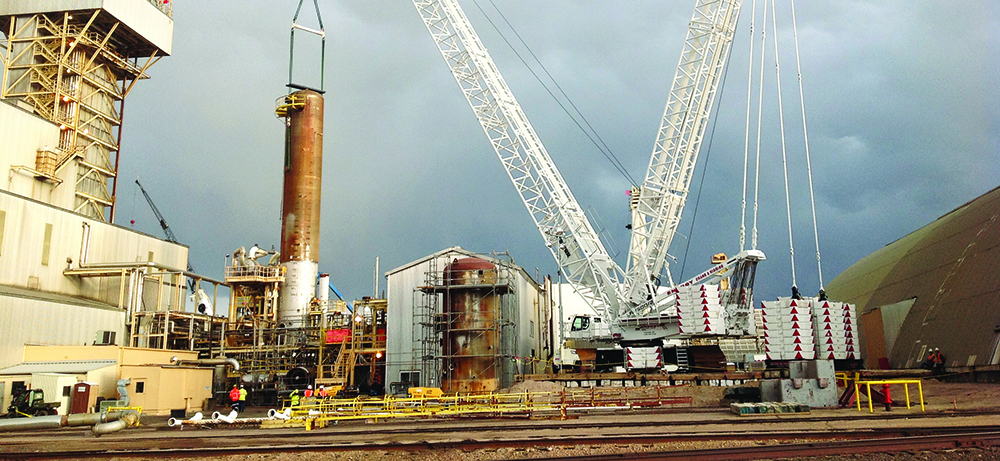 The budget is delivered at the beginning of the project and no inconvenient change order surprises appear during the construction phase. Valuable time is saved and the customer is not forced to coordinate between separate contracts and schedules, as one team handles every aspect of the project. Responsibility for the project is placed on us, rather than you. Please contact us to learn how you can benefit from our vast experience. Allow us to perform your next project as a "Total Project Solution" venture.
Certifications
We have been granted Certificates of Authorization to provide fabricated products in compliance with the American Society of Mechanical Engineers (ASME) Section I & VIII, Division I requirements.
These include:
Compliance stamps "U" (Unfired Pressure Vessels) "S" (Boiler Manufacture Section I)

The National Board of Boiler and Pressure Vessel Inspectors "R" (Boiler & Vessel Repair & Alteration)

Shell and tube heat exchangers are fabricated in compliance with:

Tubular Exchanger Manufacturers Association (TEMA)

Unfired Heat Exchanger (UHX) B, C and R.

AWS D1.1.

B31.1 and B31.3 Code

American Petroleum Institute (API) – 650, 620 and 653
Increased Efficiency
The combined fabrication-construction team enhances efficiency because the parameters are being developed and evaluated simultaneously with the budgetary goals. Customers also have greater access to the project "team" as the project is being developed.
Quality Assurance and Control
We are solely responsible for the completed product and are motivated to build-in quality throughout the fabrication and construction process.
Shop Testing
Roberts has in-house nondestructive testing (NDT) capabilities and a mobile nondestructive testing trailer. The nondestructive testing performed by Roberts in the field can be purchased as a stand-alone service.
Certified Welding Inspectors (CWI's)
Full-time Vessel Professional Engineer (PE)
Visual Testing (VT)
Penetrant Testing (PT)
Magnetic Particle Testing (MT)
Ultrasonic Testing (UT)
Radiographic Testing (RT)
Positive Material Identification (PMI)
Helium Leak Testing
Time Savings
Because fabrication and construction can overlap, the total project time is reduced.
Reduced Owner Burden
You, the owner, do not have to coordinate between separate contracts or resolve budget and schedule conflicts, because we are your single source of contact throughout the process.
Up-front Budgets
Construction costs are guaranteed and known in advance.